Piano backing tracks for Major scales
Music in major keys without piano parts made for improvise and exercise with on keyboard or piano.

These backing tracks are music arrangements made for play along with using various Major scales, which are indicated with charts adjacent to each track. The Major Scales Backing Tracks album include instrumental tracks, in pop, rock and other genres.

The tracks are created to fit with a specific scale; therefore, you don't have to change scale during the song. A tip nevertheless: if you can't recognize the chords, be restrictive with – or use primarily as passing tones – the 4th and 7th notes in the scale since they will create dissonance against the 3rd and 1st scale notes when these are present in the chords. But don't be afraid to experiment with notes outside the scale, which in sparse use can contribute a lot. For instance, try to find if the neighbor key to the root note in the scale will add some interest at some part of a track.

Click on "Show scale" below the audio element for a diagram of the scale to use.
Backing tracks for Major scales presented by Pianoscales.org.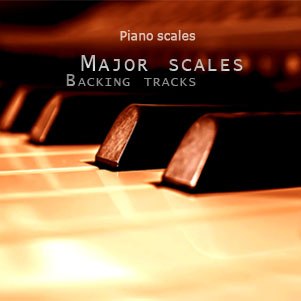 Track list
C Major Soft Ballad
Show scale
D Major White Shade Pop
Show scale
E Major Pop
Show scale
F Major Rock
Show scale
G Major Slow Country
Show scale
A Major Fast Pop
Show scale
B Major Lofty Pop
Show scale
The full album (including C#, D#, F#, G#, A#, Bb, Ab, Gb, Eb and Db tracks) is available in the member area.
Backing tracks overview